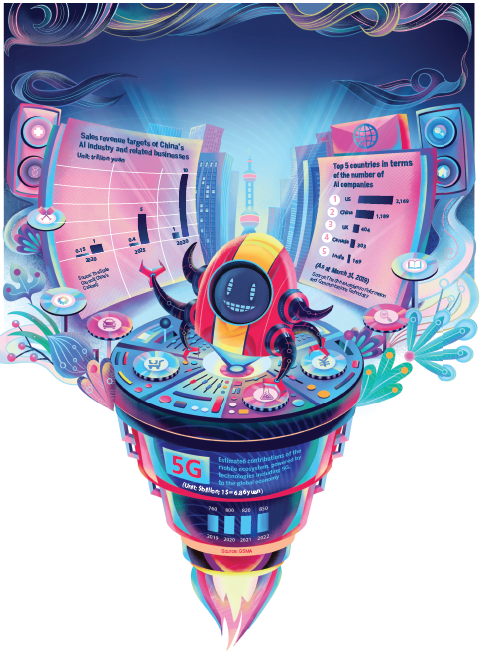 Shanghai: Open to Tech
July 8, 2019
Whilst I am a keen observer of events across Asia, I haven't been to Shanghai for some time. It was great to arrive over the weekend, ready for some meetings in Hangzhou. I was planning to visit the Shanghai Museum of Science and Technology but ended up hopping in a taxi and going to New Pubong to meet my friend, the economist Hugh Peyman. We ended up bantering all afternoon, trading stories and talking about the future of China. He first arrived in China in 1978 and has spent a significant amount of his life living in Chinese speaking countries. Last year Hugh published a book called China's Change, which I highly recommend. It explains why China's has become so good at managing or navigating change with its long term thinking and a culture which is founded on a book called "The Book of Change" – The "I Ching." As a Futurist I have found Chinese philosophy hugely useful. Hugh is still positive on China and quite irritated by the short-termism of the West. Recently retired he is considered writing another book as well. So he's a great person to chat to about the longer term issues.
One of China's strengths we agreed is its embrace of technology. Whereas Europe has always got its foot on the brake in the implementation of tech -concerned as they are by privacy, ethics etc – China is going all in. You see signs of it everywhere. Even if Shanghai still has older parts to it, and places which still feel a little like a developing country, they co-exist with the modern and tech is being experimented everywhere. I am not sure how many Europeans and Americans know that digital money is ubiquitous here – many people don't even bring their wallet out with them, only their smartphone. Even beggars take digital money on their phones! There is something cultural about this, not just a business mindset. It also reminds me of my timesaving in Japan, where their shinto philosophy of believing that spirits are even in inanimate objects, means they are totally open to robots. In the West we are quite scared about the onset of the robots, but in Japan they are celebrated in all their books, films and manga.
It was interesting to see the number of technology-related articles as I skimmed through the China Daily this morning whilst I enjoyed my buffet breakfast at the Swissotel. This article touches on the merger of AI and 5G
https://www.chinadaily.com.cn/a/201907/08/WS5d2284faa3105895c2e7c208.html
Despite the colossal tech war which kicked off recently with Huawei under full assault from the US and many of its partners, the 5G age has already begun last month with the issuance of the 5G licences. In fact, here in Shanghai they will go all 5G by 2020. During 2019 they are aiming to build 10,000 5G base stations covering all the downtown and main suburban areas and by 2020 the city should have 20,000 base stations and thereby full coverage.
Not everyone realises the significance of 5G. But it is one of the lynchpins to the 4th Industrial Revolution.5G enables data transfers 10X faster than 4G and this makes AI more effective and on a much larger scale. It also makes tasks which were previously impossible possible. When a needle pricks your finer it usually takes approximately one hundredth of a second to feel the pain. However, the theoretical latency of 5G is only one-tenth of that! So this makes autonomous driving, remote surgery and other sensitive applications much less hazardous. In fact, in March China did the world's first 5G remote surgery on a patient with Parkinson's disease. A Dcotor in Sanya, Hainan, remotely implanted a deep brain stimulator (a 'brain pacemaker') into a patient 2500 km away in Beijing.
I am not blasé about the future risks in China. The geopolitical and tech issue with the US is very serious. However, whatever happens with Huawei, China should be set to be a 5G powerhouse. According to the china Daily:
"It is forecasted that 28 percent of China's mobile connections will be running on 5G networks by 2025, accounting for about one-third of all 5G connections globally, according to a report by telecoms lobby group GSMA, which represents the interests of 750 mobile operators."