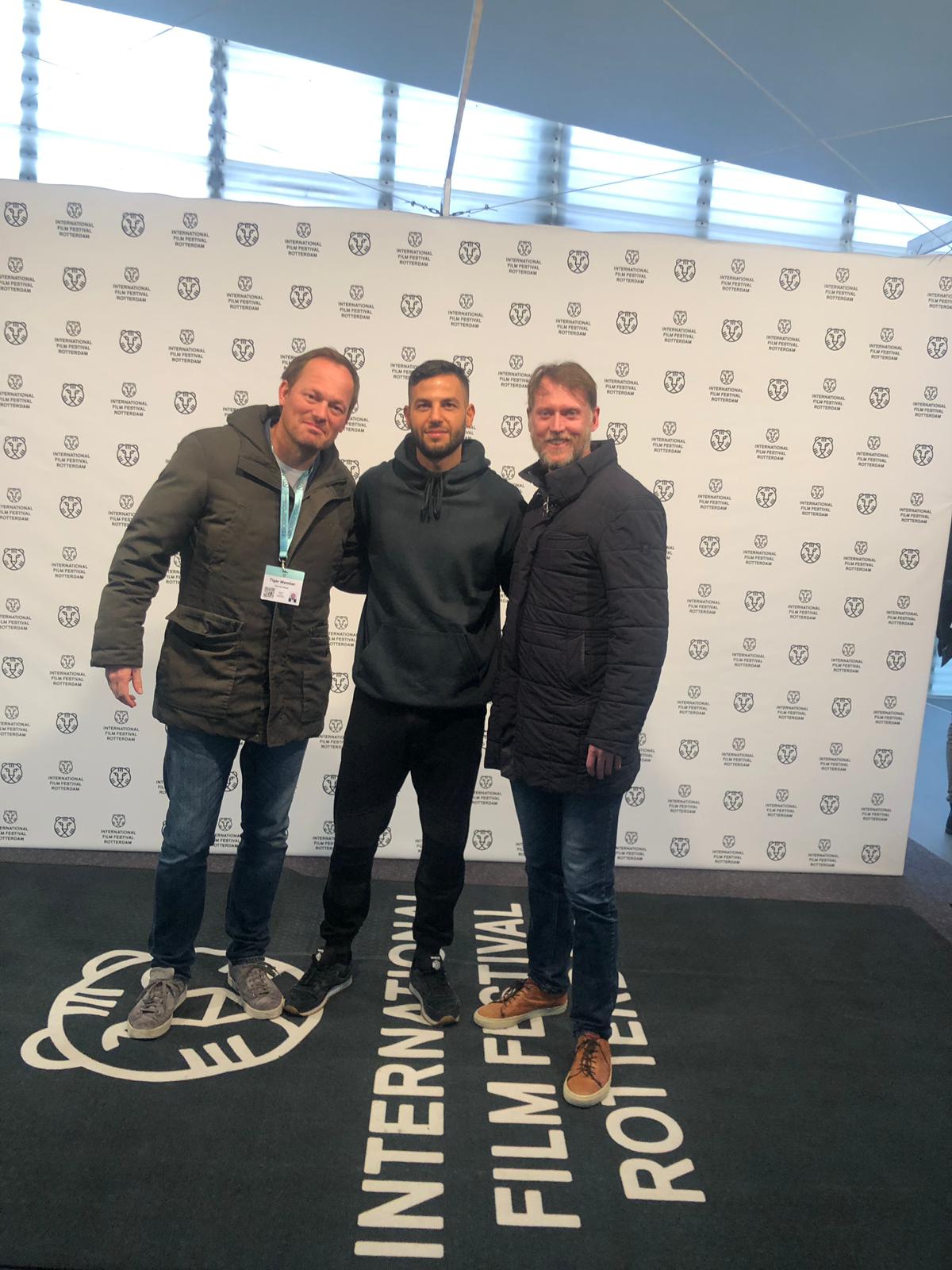 Films Reveal the Future
February 12, 2019
I have a number of approaches and techniques to discerning trends and where the world is heading. Many of them endeavour to tap into the collective consciousness through popular culture via books, media and movies. This year, for the first time, I joined my friend Yuri Van Geest – a fellow future thinker and best selling author – at the Rotterdam Film Festival for a marathon session of film watching. He has been attending for 23 years and watches 3-6 movies per day for the week! I had an amazing time and it was interesting to capture some of the currents and cross-currents. The photo above was of Yuri, Ulaa Salim (director of Sons of Denmark) and I.
These are some themes I identified:
Social fragmentation: a number of the movies charted the lives of people who were in the underclass. Ray & Liz set in the UK and was a pretty oppressive movie about Ray – an alcoholic – and Liz "a tattooed, chain-smoking mass of flesh who pummels Ray's head and occasionally does a jigsaw puzzle". Watching the movie, one is torn between feeling sorry for the whole family's plight (especially the children who are over the moon when social services come to take them away to a different family) and frustration that they don't seem to proactively try and get themselves out of their situation. When one of their children IS taken, their first reaction is to worry about the loss of government handouts. Capharnaüm is based in Beirut and about another family who can't look after their children. So much so that the boy takes his parents to court to prevent them from having more children! Its a really heart-breaking story but excellent filmography, especially when the runaway and homeless young boy ends up trying to look after a baby who's mother had been arrested for illegal immigration. We have all heard the data on the social divides, how much is owned by the 0.1% etc. But nothing is being done about it, partly because the public isn't really aware of why its happening. This is why I expect more political chaos in the West, before things get better.
The other dimension to social discord is fragmentation along religious and cultural lines. This was highlighted by Sons of Denmark by Ulaa Salim. Cineuropa describes this political thriller: "We are approaching the one-year anniversary of a major bomb attack in Copenhagen. The extreme Right has become dominant. Radicalisation around the country has intensified. The next parliamentary election is near, and the highly nationalist politician Martin Nordahl from the newly established National Movement party is predicted a landslide victory that will secure him the post of prime minister. Zakaria, 19, is slowly, but surely moving towards a dangerous path of radicalisation that risks costing him and his family everything." Given the small budget of just 500,000 Euros I was amazed at the quality, I sincerely congratulated the director when we got to meet.
I don't see an end to the fragmentation of society in the West for a few more years, although longer term I see many green shoots. The more I travel, the more I see people who can get along regardless of culture or religion. Political ideology and dogma, however, can be dangerous.
Anxiety and Addiction: closely related to the theme above, but important to note separately, is that is 2/3m movies the main characters are either chain-smoking, excessively drinking or outright addicted to something. Ray & Liz might have been one of the worst (rather appropriate given the UK location) but it really wasn't limited to one location. People were aenethnaitsing because they had no purpose, no hope, no money or were covering up the trauma of something like war. If you haven't noticed we are facing a fairly global epidemic of addiction – but particularly focused in the West. Most barometers of anxiety I have looked at show a rise in the last couple of decades. No wonder populations are getting angry at mainstream politicians. But there is a good side to this below..
War, Geopolitics and Trust: Another Day of Life is an excellent movie about the war in Angola told through the eyes of a famous Polish reporter. The country is torn apart as the USSR on one side and the West on the other pour guns and resources in to the country. After countless proxy wars and regime changes over the years, when will we ever learn? A Private War also follows a journalist – Marie Colvin – who truly suffers from her relentless coverage of war zones. She loses one of her eyes and suffers from PTSD, drinking excessively, and ultimately is killed in Homs, Syria in 2006. Interestingly, whilst in Morocco this week I spent a little time with a former war reporter who covered conflicts in Africa, Iraq and Afghanistan. He said that its an unbelievably stressful job because they are competing with other journalists and their head offices push them to take greater and greater risks.
Diamantino was a completely bizarre movie about a famous footballer who was manipulated by the intelligence agencies to fulfil a political agenda. Although much of it was totally off the charts, some of the cloak and dagger stuff reminded one of that shadowy world, and many people are fed up with it. I personally enjoyed it. You can read the explanation below.
Many films highlighted the pointless of war and I do see geo-political risks as one of the major risks in the next 5 years. Today we see Syria being torn apart and now Iran seems in the cross-hairs after Bolton's warning this week. The good news is that I believe as we enter a more mutlipolar world (not just one or two superpowers), this might become more difficult.
China's cultural re-emergence: what was striking was that perhaps the 2 most ground-breaking films in terms of film-making history were Chinese! Long Days Journey into Night and Shadow. This is IMBD's description of Long Day's Journey into Night: "Luo Hongwu returns to Kaili, the hometown from which he fled 12 years earlier. As memories of an enigmatic and beautiful woman resurface – a woman he loved and whom he has never been able to forget – Luo Hongwu begins his search for her. Past and present, reality and dream interweave in Bi Gan's stunningly beautiful and highly innovative film noir." What was amazing was that half way through Luo Hongwu puts on his 3D glasses in a cinema, indicating that we should as well, and then we experience a 55 minute non stop take! This makes cinema history.
The LA Times gives it a rave review: "The first hour or so is a seductive memory piece unfolded in elusive yet tantalizing narrative fragments, but things really kick into gear in the second half, with a 55-minute tour de force of sustained mobile camerawork to rival such one-take wonders as "Russian Ark" — and in 3-D, to boot. It's like a Max Ophüls movie on crack, and the most magical piece of cinema I've seen in Cannes in many a year."
My veteran film-watching friend Yuri was also "mind blown" by the movie.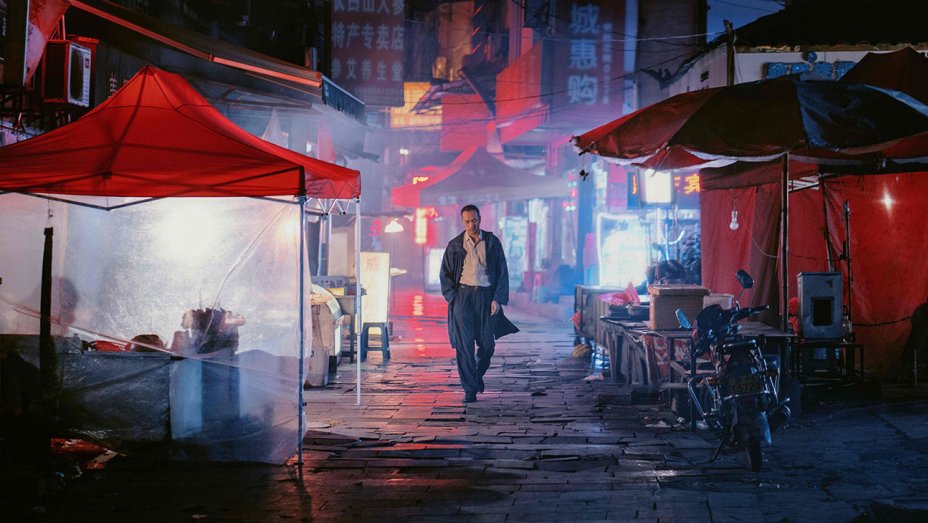 Consciousness and Meaning:In addition to the amazing filmography of Long Day's Journey into Night, was the exploration of reality and consciousness. The experience felt like Inception on steroids. What is a dream, a memory, a film and what is reality? What is time and space? I told Yuri it was the first time a movie had given me an 'ayahuasca experience'! I couldn't really do the film justice in words as its something to be experienced. Its probably like trying to describe your one month zen retreat or LCD experience. And probably many people aren't going to get it anyway. In China, many netizens didn't realise what they were getting themselves into and gave it poor reviews. It probably shouldn't have been marketed to the masses. I hope that doesn't sound to arrogant – I am certain I wouldn't have got this film 15 years ago, before I started my intense program of zen and exploration of consciousness. Wherever I go – including Davos – there is more discussion and exploration of these themes.
Camino was a much simpler exploration of meaning. The film maker shoots himself walking the Camino pilgrimage across France and Spain. He doesn't know why he's doing it, but he knows he must. For me – a veteran trekker/pilgrimage walker – its fairly 'beginners level' and I do think the commentary could have gone much deeper, but nonetheless it was a watchable film. Globally there has been a resurgence of these ancient pilgrimage trials from Europe to Asia. In Korea, the most popular tourist spot is actually the Jeju Olle trail, which I walked in 2015 for 4 weeks. The wonderful thing about walking every day for weeks or months is meditative self reflection which can be done (some people don't want to do silent zen retreats, which I also do) and also the beautiful human encounters one can have on the road. There are also, of course, the natural challenges one has to overcome on the way. A pilgrimage can often give you what you need not what you want. Last year I walked around Snowdonia in Wales following ancient Arthurian and Merlin sites, and the beginning was miserable! But the end was quite beautiful and insightful. I think that people are looking for purpose and meaning in their lives. So as global anxiety has risen, more people are taking positive action like this and I see this as the beginning of human 2.0 and the end of the Industrial Age.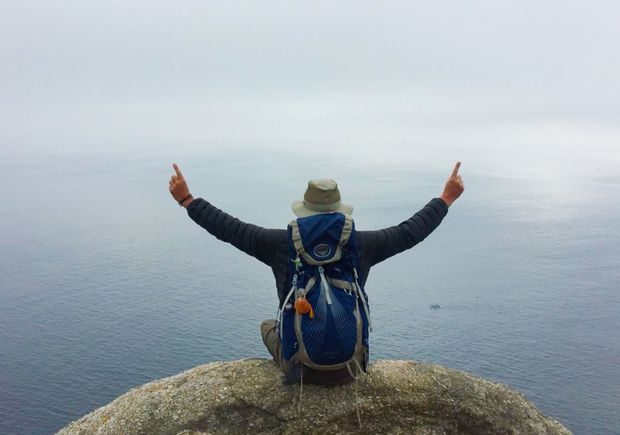 These are the summaries of some of the movies we watched, directly copied from the Rotterdam International Film Festival website (https://iffr.com/en).
Shadow by Zhang Yimou.
The king of Pei can barely cope with losing the city of Ying, but he knows his limitations. So his fury is enormous when his greatest general challenges the military leader of the enemy to a duel. What he doesn't know is that this is a doppelgänger. The real general is wounded but plays his 'shadow' like a puppeteer. In turn, he cannot prevent his wife falling for his virile double. The friction long remains under the surface, but in the third act of this Shakespearean drama, it comes to a bloody climax.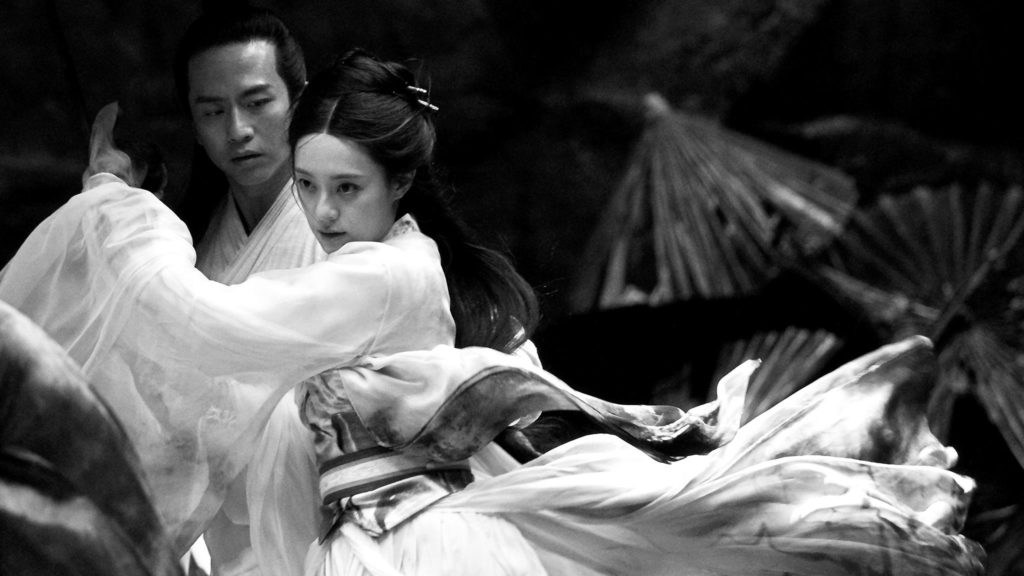 Caphanaum by Nadine Ladaki
The doctor thinks Zain is about twelve years old, but nobody knows for sure; he wasn't registered at birth. And this is not the only pretty basic thing missing from the chaotic lives of Zain and his younger brothers and sisters: they also lack a habitable home, sufficient food, protection, love. So Zain takes his parents to court. His complaint: that they brought him into the world.
Using the court case as a framework, we learn how it came to this in two long flashbacks. In an energetic montage of observationally filmed scenes, Capharnaüm examines – in part through the problems of an 'illegal' Ethiopian cleaner who shelters Zain when he runs away from home – the fate of the large group of undocumented people trying to survive in and around Beirut. Street-savvy and wise beyond his years, the sad gaze of young lead Zain Al Rafeaa betrays his real-life experiences as a Syrian refugee in the Lebanese metropolis.
Another Day of Life – Raul de la Fuente and Damian Nenow
Ryszard Kapuscinski (1932-2007) was one of the 20th century's principal and most colourful war reporters. He reported on 27 revolutions during his career, was imprisoned 40 times and sentenced to death four times. He was primarily active in Africa as a correspondent for a Polish news agency. When civil war erupted in Angola in 1975, he was the only foreign reporter on the ground. His book Another Day of Life describes how that diamond and oil-rich country was used as a Cold War pawn.
Kapuscinski's writing style is subjective, sometimes even surreal. This animated adaptation does complete justice to his form of literary reportage. Hallucinatory impressions of chaotic firefights are recorded in a graphic-novel-like style. Interviews with the main characters were made in real life, 40 years later – some have become successful, others have gone mad. This is a story, but no work of fiction.
Sons of Denmark – Ulaa Salim. A year after a deadly bomb attack in Denmark, ultra-nationalist politician Martin Nordahl and his National Movement are leading in the polls. Influenced by his unabashedly anti-immigrant rhetoric, society has rapidly turned on ethnic minorities, especially those with an Arab background.
In this climate, 19-year-old Zakaria feels compelled to act to protect his own and his family's safety. However, to do what he feels is necessary to turn the political tide, he needs to abandon his mother and little brother. Zakaria gets involved in a radical organisation, where he forms a bond with Ali. The two men cannot agree with the current state of the country, which is turning on its own citizens because of their migration background, and decide to act. However, they are both just tools in the hands of people with power. As the men try to make their mark, their brotherhood will be tested and their actions will have grave consequences on their lives.

This political thriller has shades of traditional tragedy and revolves around the question: How do you stay calm when society succumbs to fear and hate? Director Ulaa Salim's script for his feature film debut was inspired by political and societal developments in Denmark and abroad. The fact that the film plays out mostly at night, or in places the sun never shines, underlines its dark undercurrent and claustrophobic atmosphere.
Ray & Liz,
The devastating feature debut in shades of grey by Richard Billingham, is based on earlier video work and the beautiful photo book Ray's a Laugh (1996) by the British artist/photographer. Within an oppressive frame, Billingham reconstructs three episodes from his childhood in the depressing tenements outside Birmingham in the era of Margaret Thatcher.
His father Raymond is a chronic alcoholic who barely goes outside and usually drinks his own home-made hooch. Mother Liz is a tattooed, chain-smoking mass of flesh who pummels Ray's head and occasionally does a jigsaw puzzle. Richard and his brother Jason watch wide-eyed. Yet despite all the poverty and disconsolate atmosphere, there's also beauty in Billingham's meticulous recording of memories without sentiment and he shows – on occasions – compassion for his nearest and dearest.
Camino
Everything in me said I had to do it." Martin de Vries decides, without any preparation worth mentioning, to walk the Camino, the famous pilgrims' way to Santiago de Compostela. From Le Puy-en-Velay in central France to north-west Spain; a journey of 1,600 kilometres, taking almost 70 days. He films himself while walking – his feet, his shadow, the path, the fields and woods – and tries to get to the bottom of why he set out on this adventure.
Only occasionally do we see other walkers and the places where he spends the night. As he turns the camera on himself while walking, De Vries soberly wonders aloud about the trials and euphoric moments; about the beautiful morning light and the sound of the birds; about doubts and growing unease. He learns to be 'in the moment' and as he walks examines his motivations and inner demons with ever greater candour. An unpolished travelogue in the addictive rhythm of the trip that makes the experience palpable. A self-portrait in two million steps.
Private War by Matthew Heineman
Marie Colvin (1956-2012) wasn't particularly interested in 'embedded journalism'. The war correspondent for The Sunday Times did not remain obediently behind the lines, but penetrated to the flaming core of armed conflicts. She stood on battlefields in East Timor, Chechnya, Libya and Sierra Leone, among others. There, she revealed war crimes and personal suffering, and interviewed rebel leaders and dictators. She lost an eye in Sri Lanka during a grenade attack. In the end, a bombardment during the siege of the Syrian city of Homs cost her her life.
Colvin was driven by a primaeval sense of being a reporter: seeking truth with a large dose of humanism. But her work also demanded sacrifice. She tried to soothe the traumatising misery she faced every day with sex and alcohol. Real relationships never lasted very long. Rosamund Pike plays Marie Colvin as a woman who has been penetrated to her very core by war. An impressive role.
Diamantino by Gabriel Abrantes and Daniel Schmidt
Everybody wants something from Portuguese football superstar, Diamantino Matamouros: his trainer father sees a champion, his sisters see a meal ticket, and his country sees a hero. But when Diamantino misses the decisive kick at the World Cup, he begins to question everything he has ever been told about the world around him.
So begins the wild ride that is Gabriel Abrantes and Daniel Schmidt's Diamantino, Grand Prix winner of Cannes Critics' Week. It is in equal measures a shape-shifting fairy tale, a gender-bending romance, a sci-fi-tinged body horror, and an uproarious social (media) satire of modern Europe. Though the film wades through a heavy backdrop of digital misinformation, the refugee crisis, and the rising tide of right-wing nationalism, Abrantes and Schmidt's light touch tap-dances through these real-world traumas, effortlessly absorbing new textures and tones along the way. Diamantino looks at the post-Brexit era through a funhouse mirror, and within that warped reflection, sees that a better world is possible.