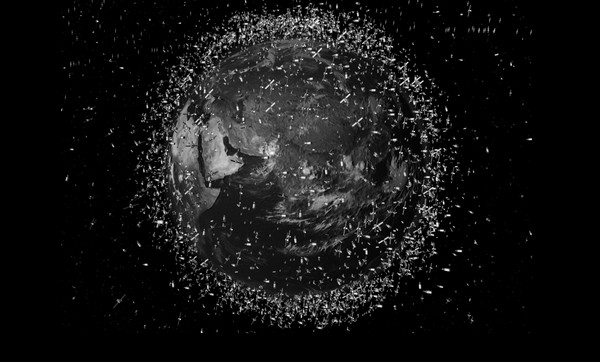 Building an Ecological Civilisation: UN Resilience Frontiers Futurist
April 17, 2019
Delivering the Keynote at the United Nations
This last week the UN brought together 100 visionaries and thought leaders in the 'City of Tomorrow', Songdo, South Korea, to begin "a collective intelligence process looking out to 2030-2050 and beyond Sustainable Development Goals. And specifically on how best to respond to the deep societal transformations driven by emerging technologies…and maximize our resilience to climate change beyond 2030".
It was an amazing week and I congratulate the Youssef Nassef and Laureline Krichewsky, the UN Climate Change Secretariat and other agencies for taking this initiative. I really enjoyed the opening words of Nic Badminton and also the very inspiring keynote by my friend Marc Buckley, who reminded us we are not passengers on spaceship Earth, we are all crew members. And of course, I enjoyed many of the conversations I had that week.
I had the honour of delivering a Closing Keynote after a gruelling 5 days of dialogue and creative brainstorming. If other initiatives are about putting out the fire, Resilience Frontiers must be about building a new home. And in order to give direction and open the minds of collaborators in this process I think we need a new grand narrative: we must build a (resilient) ecological civilisation.
I started out reading a poem written by my friend Drew Dellinger.
hieroglyphic stairway
"it's 3:23 in the morning
and I'm awake
because my great great grandchildren
won't let me sleep
my great great grandchildren
ask me in dreams
what did you do while the planet was plundered?
what did you do when the earth was unraveling?

surely you did something
when the seasons started failing?

as the mammals, reptiles, birds were all dying?

did you fill the streets with protest
when democracy was stolen?

what did you do
once
you
knew?"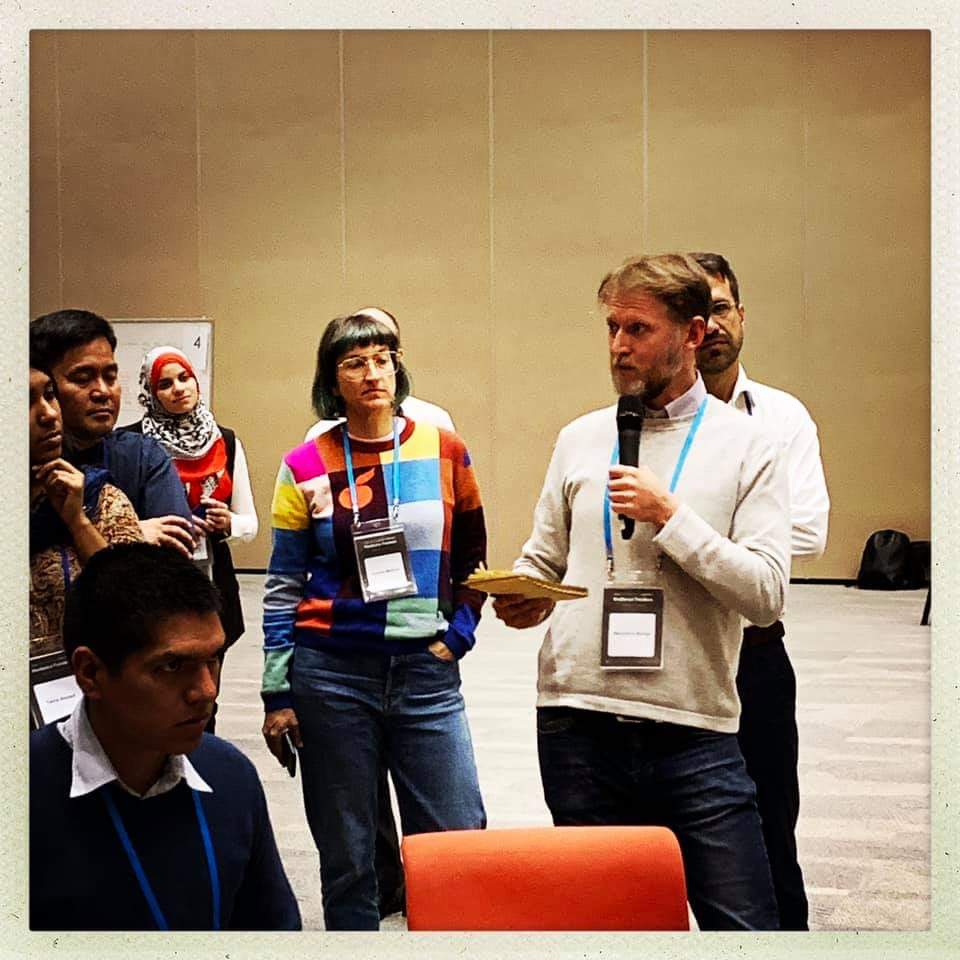 In January 2015 my daughter was born. With some zest my Korean wife and I sought an appropriate names, trying to find something which sounded nice, worked in both Asia and the West and also had some deeper meaner. In the end, it was a week after she was born that the name came to us, rather intuitively in fact: 'Gaya'. In Europe of course, everyone has heard of 'Gaia' as Mother Earth. In Korea it means beautiful field and was an ancient buddhist kingdom. When I lived in Japan, Gaya seemed to work and translate as Earth. Then in India, it was the rebirth place of the Buddha. It seemed to be a universal name, or as universal as we could find. Perfect for a Eurasian child, who would love and have a sense of belonging to the Earth.
A few months after her birth I thought that as I had just given my daughter such a name perhaps I should study more about 'Gaia'. I was always deeply connected to nature and had even lead nature-based vision quests to help leaders find their purpose in life. But I wanted to know more, and this scientist James Lovelock who wrote about Gaia intrigued me. So I went to Devon to speak with some of the scientists who worked and researched with him and I discovered Dr Stephan Harding and many others who were affiliated with Schumacher College. I ended up studying an MSc with them whilst I was still working as a Futurist.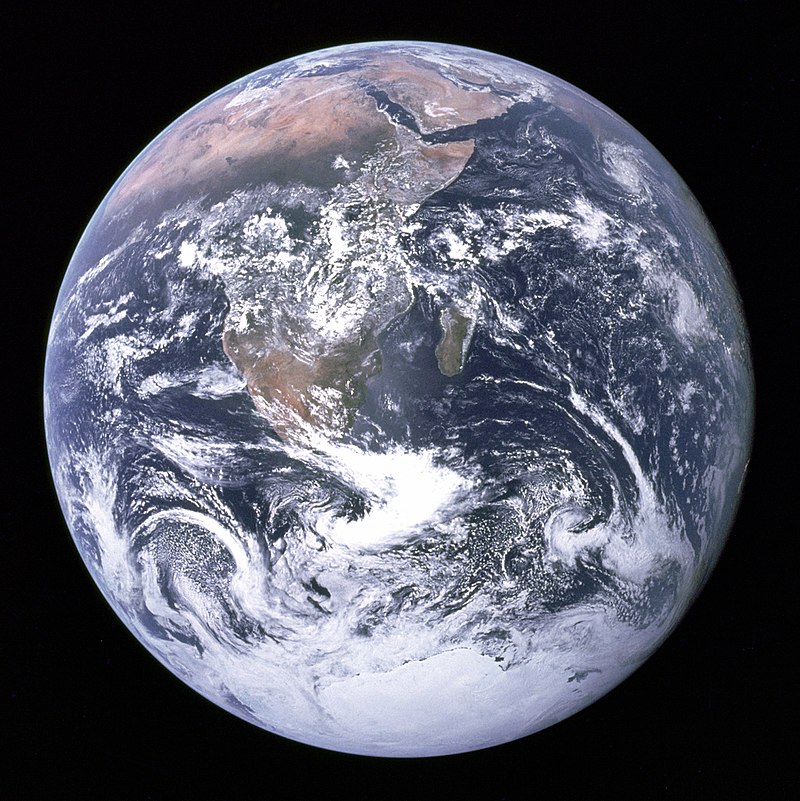 Nowadays I meet many people who are very negative about the future, and the coming catastrophe of climate change. But I like to highlight the bigger context and trends when I look at the future. The beginning of change happened nearly 50 years ago.
Some amazing things happened in the 1960s. We sent astronauts to discover the frontiers of human space and go exploring to the Moon. But that moonshot resulted in something profound. We looked back at our planet and saw 'Blue Marble', borderless and beautiful. I think it was like the opening of a door for our species. Some call this the 'overview effect' as mentioned by Marc Buckley and it blew the minds of those astronauts to witnessed it directly. But now we at least had a photo of it. Stewart Brand in California kicked off the Whole Earth Catalogue, a magazine which pushed the boundaries of human thinking with a hotchpotch of articles about tech and empowering the human potential movement. This influenced a whole generation of Silicon Valley entrepreneurs; later Steve Jobs and many other who highlight how important it was in expanding their minds. And in the world of science, NASA Scientist James Lovelock began to push the boundaries of our understanding of earth science. Through his famous Gaia hypothesis, he proved the interconnectedness of the entire planet, and how the Earth regulated itself, almost like one super organism – although he couldn't quite say that latter point. Wikipedia defined his theory as as : " living organisms interact with their inorganic surroundings on Earth to form a synergistic and self-regulating, complex system that helps to maintain and perpetuate the conditions for life on the planet." There are many incredible examples including how the Earth system has managed to maintain its temperature in a relatively narrow band despite the luminosity of the sun increasing 30% over a 3.5 billion years. The way the Amazon works is equally astonishing. An article in the New York Times published after my talk highlights
"Life in the Amazon does not simply receive rain — it summons it. All of that lush vegetation releases 20 billion tons of water vapor into the sky every day. Trees saturate the air with gaseous compounds and salts. Fungi exhale plumes of spores. The wind sweeps bacteria, pollen, leaf fragments and bits of insect shells into the atmosphere. The wet breath of the forest, peppered with microbes and organic residues, creates ideal conditions for rain. With so much water in the air and so many minute particles on which the water can condense, rain clouds quickly form.
The Amazon sustains much more than itself, however. Forests are vital pumps of Earth's circulatory system. All of the water that gushes upward from the Amazon forms an enormous flying river, which brings precipitation to farms and cities throughout South America….
The Amazon's rain ritual is just one of the many astonishing ways in which living creatures transform their environments and the planet as a whole. Much of this ecology has only recently been discovered or understood."
More than Science – A Powerful Metaphor
In a way, beyond pushing the frontiers of earth system science, Lovelock brought back a powerful metaphor. Originally he was going to use a typical scientific acronym but he went for a chance walk with his friend the writer William Golding, who actually had a science background. Golding proposed he used the term Gaia, bringing science and a deeper spiritual sense of nature back together once more even if that wasn't the scientific rationale of his theory. Many scientists hated it. For in science we lived in a clock work universe, nature was essentially dead. Animals didn't have feelings and trees weren't really sentient. We lived in a civilisation which was increasingly separated from Nature. The idea of a living earth, an Anima Mundi, was an anathema to many.
Dawn of Man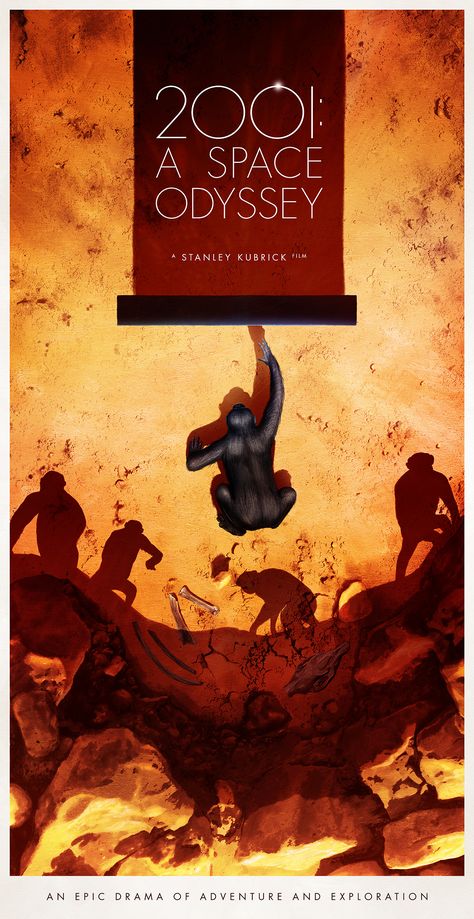 Kubrick's 2001 Space Odyssey is one of the profoundest movies out there. At the beginning is the dawn of man scene which touches on some pretty deep issues. I can never forget the iconic match cut where after an ape kills another ape at the watering hole with his bone tool, he throws it triumphantly in to the air and it spins and spins and then the film cuts to a satellite orbiting earth. In one narrative genius it captures human evolution and imagination. However, the scene also tells shows the double edged sword of technology. It was developed and used to kill a tapir (pig) as well as another ape.
As we enter the Fourth Industrial Revolution and beyond, we must be careful how our technologies are deployed. Scientists like Robert Oppenheimer were horrified by the outcome of the nuclear age. Nuclear technology has been used to create energy to hear people's homes and also to kill hundreds of thousands of Japanese civilians in WW2. I've been to Hiroshima a number of times, and it is a very disturbing memory.
The "Abundance" View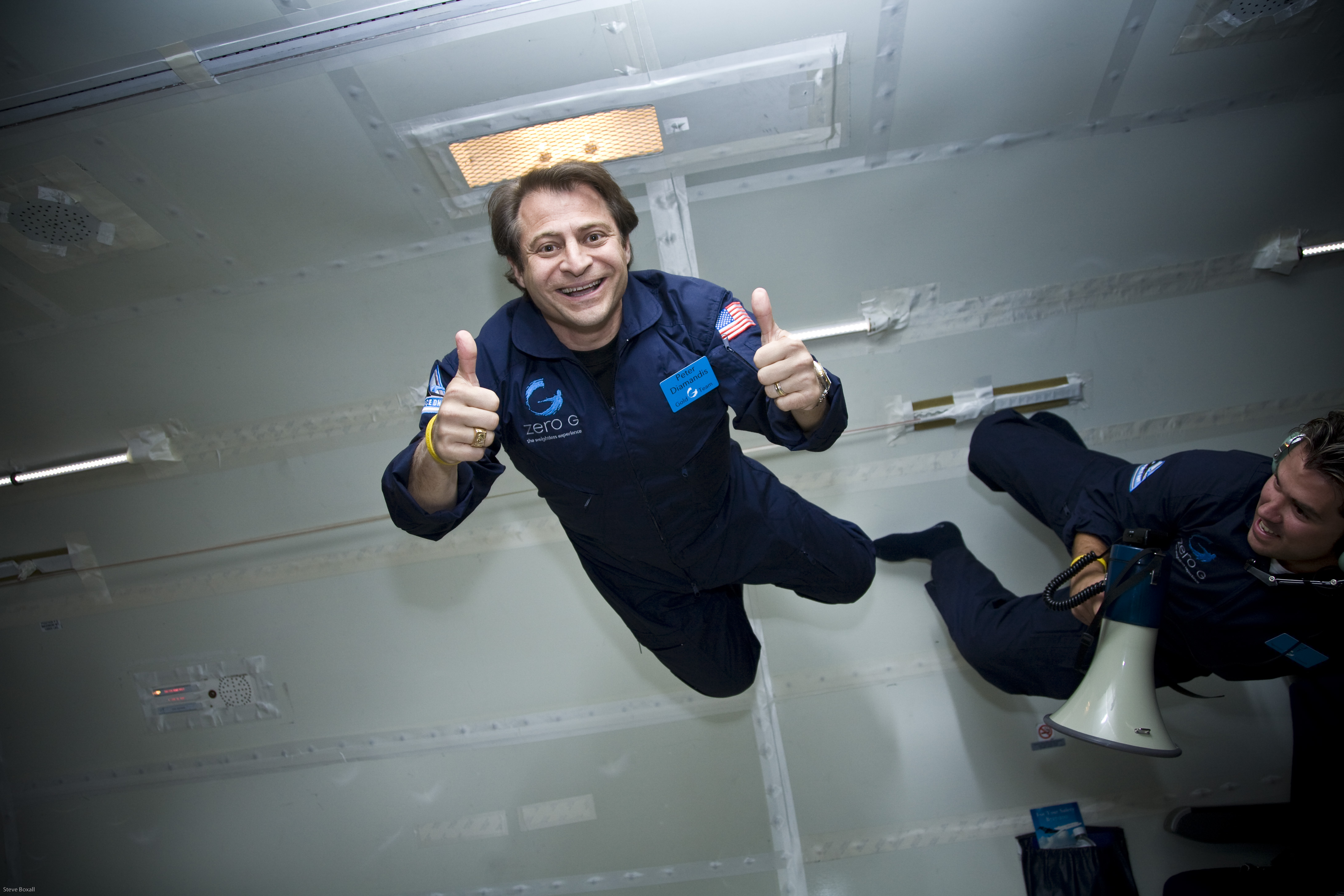 There is a certain view I encounter in Silicon Valley, which I sometimes call the Abundance view….after Peter Diamandis who wrote a book of the same name. It can sometimes go like this. A wave of exponential technology is upon us, like we have never seen before. 4 billion more minds will be joining the internet in the next decade and they will add their information and creativity to the global pool. And as it's never been so cheap to start a company, and so easy to raise capital to be an entrepreneur we are entering a phase of even greater innovation. And, as Peter Diamandis, likes to remind everyone at the beginning of his talk, "its never been so great to be alive – ever!"
I don't want to pick on Singularity University and Peter Diamandis because I have learnt a lot from their writing and appreciate their output. But what I will say, is that there are a lot of people who don't agree with their worldview.
We are living in a time of massive wealth inequality. Whilst part of the population zips around using Ubers, travels the world and enjoys Airbnb in different cities and enjoys the power of the collective intelligence we call the internet, there are significant numbers of people in advanced Western nations even who are just fighting to just survive. I've heard 50% of the US population has no more than a $400 savings pool to meet emergencies. So basically people are one medical emergency away from devastation. Wealthy cities like San Francisco are afflicted by huge camps of homelessness. As a result of this, and a lack of purpose, we are seeing record numbers of addiction which is reaching pandemic levels. Trust in the political system has collapsed. Not only that, none of us would be surprised to see another financial crisis in the next year or two as the system was never really reformed. And growing numbers are now concerned about the bigger existential threats we are facing as a result of the Industrial Age, like climate change and the ecological crisis.
Now the Fourth Industrial revolution technologies of robotics, AI, advanced computing like quantum, CRISPR gene editing, nanotechnology, IOT powered by 5G, and 3D printing could be exacerbate all of these problems. When I asked Fritjof Capra what he thought about the Fourth Industrial Revolution over a coffee in Berkley in 2016, he said he thought it would be a disaster. What he meant of course, was that applying all these amazing technologies to an industrial mindset could worsen the ecological crisis as they draw down greater amounts of energy, gobble up more resources and worsen divides amongst the rich and poor. If we don't change direction we will just end up going faster on the current trajectory. We need to shift course, and to do that we need a new story. This is how human beings have always quickly mobilised.
A New Story: An Ecological Civilisation
"We are in trouble now because we don't have a good story….we are in between stories,"
Thomas Berry
I think Western civilisation looks so chaotic now because the old stories of the industrial and scientific revolutions have been breaking down, and there is no new dominant story or paradigm. My hope and prediction is that during the 2030-2050 period at which the UN Resilience Frontiers is looking we will evolve to an Ecological Civilisation. Its interesting that China's Xi Jin Ping has embraced this very term and the Chinese are endeavouring to harness their military to plant trees across an area the size of Ireland just in a couple of years! I think that if we don't make this transition, then I have to agree with Professor Hawking and others that we might well go extinct.
An ecological civilisation is not one that merely looks after the environment. It is far more profound and wider that that. It actually becomes like nature as we humans drop our arrogance and realise that 3.5 billion years of R&D actually does mean something. Nature organises itself in complex dynamic systems very well. Humankind under capitalism often takes complex phenomena and turns them in to complicated phenomena which are far less resilient. For example, we are incentivised to cut a live tree down which is part of a resilient forest ecology and turn it in to a table which is not resilient.
The amazing thing is that many of the Fourth Industrial Technologies can be harnessed to create such a resilient ecological civilisation. With the blockchain we can empower individuals through transparency and agency. This can be used to build a new democratised financial system and also used to build a more resilient global supply chain system.
The way we organise ourselves can fundamentally shift. The cutting edge of organisational theory now is pointing to self-organising systems. Digital technologies are going to enable this and these organisations are likely to prove to be more resilient than top down centralised systems. The research is only just trickling out, but Frederick Laloux's book "Reinventing Organisations" caused quit a stir when he showed than many self-organising companies had better financial performance.
Governance also has the potential to utilise technology such as blockchain to enable more decentralised decision-making. There is no reason why citizens can't be consulted much more frequently, or could use technology to outsource their votes on referenda to experts they trust in different fields.
3D or additive printing is also very exciting. For the first time since humankind starting making things we will build inside out like nature grows. In the past we would take blocks of matter and cut off and discard what we didn't want. This has the potential to make us much more efficient. Also the field of biomimicry is really taking off in the design world as we realise the intelligence of Nature's 3.5 billion years of R&D.

Consciousness
So we stand at a cross roads. To me it does seem that we are pointing to a more decentralised and ecological world. But for us to truly cross the Rubicon will requite a profound shift in world view or consciousness . A number of writers and thinkers have tried to show some form of evolution in human consciousness as you evolve one of the traits is to have a wider and wider level of identity beyond just yourself and your family or tribe. Clare Graves was an influential thinker who presented to the World Future Society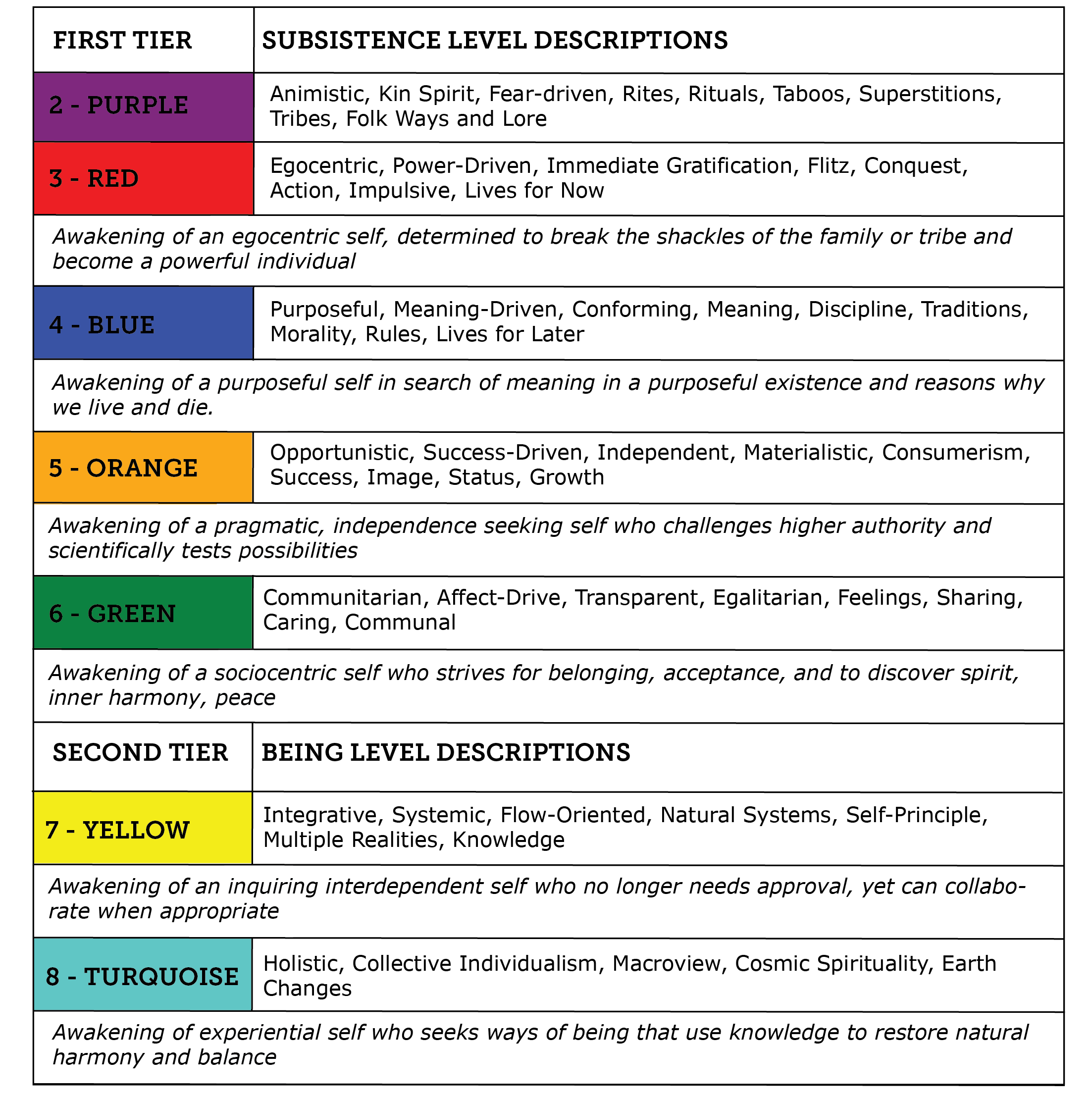 This might be the shift we are currently undergoing, which is 5 to 6 on the Spiral Dynamics chart above. As you can see it would be quite consistent with a more ecological society from the list of traits below, from some slides given to me by Steve McDonald: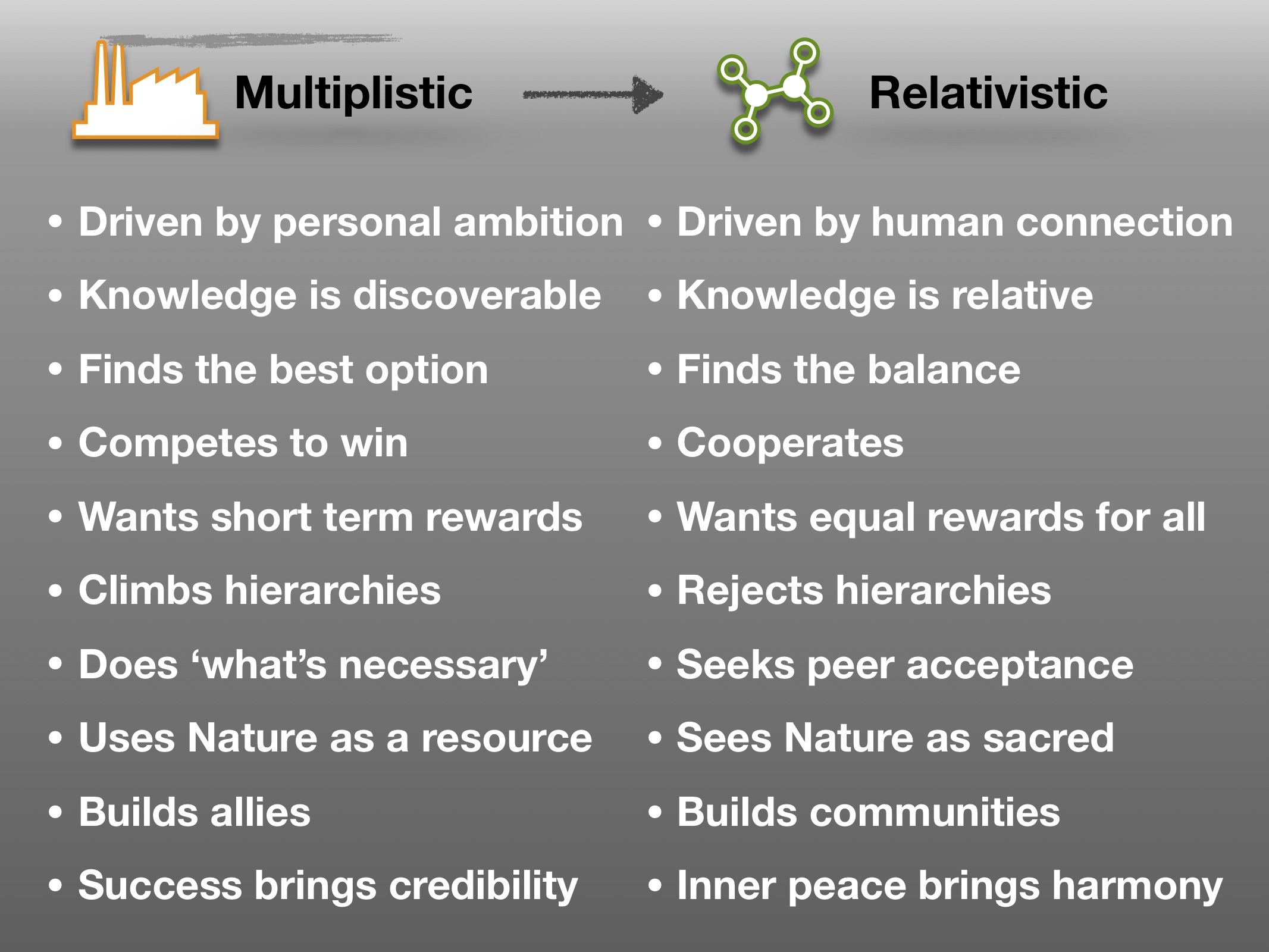 Finding our True Selves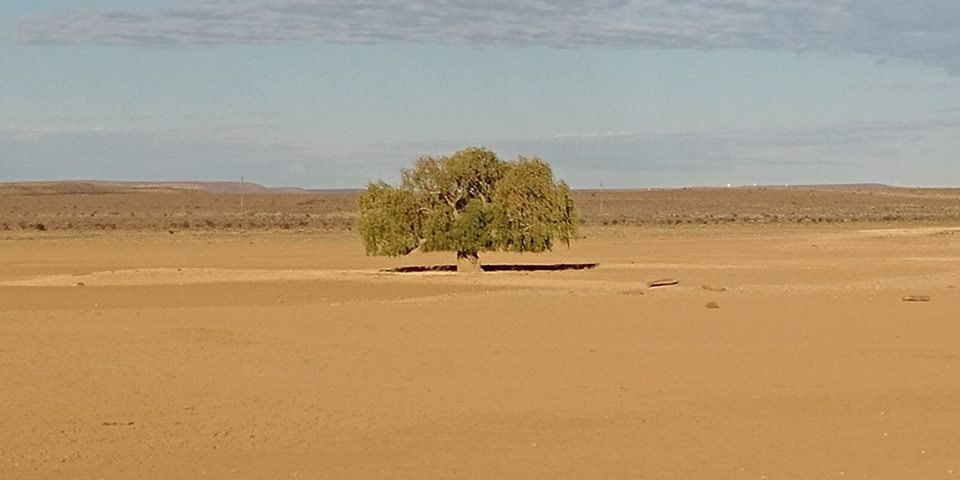 I have a lot of personal experience with addiction: both overcoming my own and helping others deal with theirs. Some might say that our current civilisation is addicted to a certain way of life. Call it what you may – an industrial mindset, a perverted form of capitalism or just the worship of money. But the path to freedom from addiction is not through self hatred. I hear a lot of people who are involved in important causes like climate change, talk about how evil humans are. I have even crossed paths with an AI researcher from Stanford recently who said that we have lost the right to be in charge and that AI must replace us, that the apotheosis of humanity is actually to find our replacement. And if that successor decides to eradicate us. So be it! I don't buy this. I have seen remarkable examples of personal transformation where people went from living in self-hatred and cycles of addiction and destructive behaviour to liberation and a more evolved lifestyle. I think during these difficult times we need to call upon our highest nature. Humans behave best when they have a higher sense of purpose, are connected to nature and community and possess self-love.
I think the potential of our era is that multiple crises and the onslaught of change caused by exponential technologies will cause us to truly find what we really are.
"We are slowed down sound and light waves, a walking bundle of frequencies tuned into the music of the cosmos, we are souls dressed up in sacred biochemical garments, and our bodies are the instruments through which our souls play their music."
Albert Einstein
For this Resilience Frontiers initiative to have the impact it could, we must have an overarching narrative, one which is positive. This way our process of imagineering what's possible and our futurist methodologies will have more impact. I suggest we must build a regenerative and ecological civilisation. I know it's possible.
References
More About Resilience Frontiers
An interagency effort undertaken by the UNFCCC secretariat in collaboration with Canada's International Development Research Centre, EIT Climate-KIC, the Food and Agriculture Organization of the United Nations, the Global Water Partnership, the Green Climate Fund, the United Nations Educational, Scientific and Cultural Organization, the United Nations Environment Programme, and the United Nations Office for Outer Space Affairs. The 2019 event took place during the Korea Global Adaptation Week from 8-12 April 2019 and kicks off the work to further the exploration of frontier issues launched by the United Nations Chief Executives Board for Coordination. It marked the start of a collective intelligence process on how best to respond to the deep societal transformations driven by emerging technologies and new sustainability trends, and maximize our resilience to climate change beyond 2030. It brought together 100 visionary thinkers and thought leaders for five days of collective thinking and brainstorming inspired by the Futures Literacy Laboratory framework developed by UNESCO and futur/io's Moonshot approach.
"hieroglyphic stairway," from the book, Love Letter to the Milky Way,
by Drew Dellinger
http://lovelettertothemilkyway.com/
it's 3:23 in the morning
and I'm awake
because my great great grandchildren
won't let me sleep
my great great grandchildren
ask me in dreams
what did you do while the planet was plundered?
what did you do when the earth was unraveling?

surely you did something
when the seasons started failing?

as the mammals, reptiles, birds were all dying?

did you fill the streets with protest
when democracy was stolen?

what did you do
once
you
knew?"
I'm riding home on the Colma train
I've got the voice of the milky way in my dreams

I have teams of scientists
feeding me data daily
and pleading I immediately
turn it into poetry

I want just this consciousness reached
by people in range of secret frequencies
contained in my speech

I am the desirous earth
equidistant to the underworld
and the flesh of the stars

I am everything already lost

the moment the universe turns transparent
and all the light shoots through the cosmos

I use words to instigate silence

I'm a hieroglyphic stairway
in a buried Mayan city
suddenly exposed by a hurricane

a satellite circling earth
finding dinosaur bones
in the Gobi desert
I am telescopes that see back in time

I am the precession of the equinoxes,
the magnetism of the spiraling sea

I'm riding home on the Colma train
with the voice of the milky way in my dreams

I am myths where violets blossom from blood
like dying and rising gods

I'm the boundary of time
soul encountering soul
and tongues of fire

it's 3:23 in the morning
and I can't sleep
because my great great grandchildren
ask me in dreams
what did you do while the earth was unraveling?

I want just this consciousness reached
by people in range of secret frequencies
contained in my speech


–Drew Dellinger © 2017